My Story According to My Adoption Papers…
My adoption documents state the following:
My story, as I know it, starts in Medellin, Colombia. In November of 1984 an unknown woman brings me to a police station in Medellin. She says that she has found me in the street and has kept me for a month. She has not been able to find my mother, and she is now handing me over to the police. On November 24th, 1984, the police contacts, and takes me to, a place called el Hogar en Transito in Medellin (from what I have been able to gather, this was an orphanage. They have since closed it and changed both name and location, so it is very hard to find any information about this place by searching online. It is a bit of a mystery whether this place was an actual orphanage or more of a transfer home, from where kids would be placed in foster families while awaiting adoption). The director of el Hogar en Transito communicates with the police officer that took me in and is told that my mother did not come to claim me at the police station. For this reason, they consider it best I be put into the adoption program through ICBF, Instituto Colombiano de Bienestar Familiar (Colombian Family Welfare Institute). In January 1985, in an attempt to find any family of mine, my picture is placed in a newspaper, together with two other girls. The article says that my name is unknown and that anyone who knows me can come claim me, and they give the address to where I am. No one comes. Subsequently, I am labeled abandoned.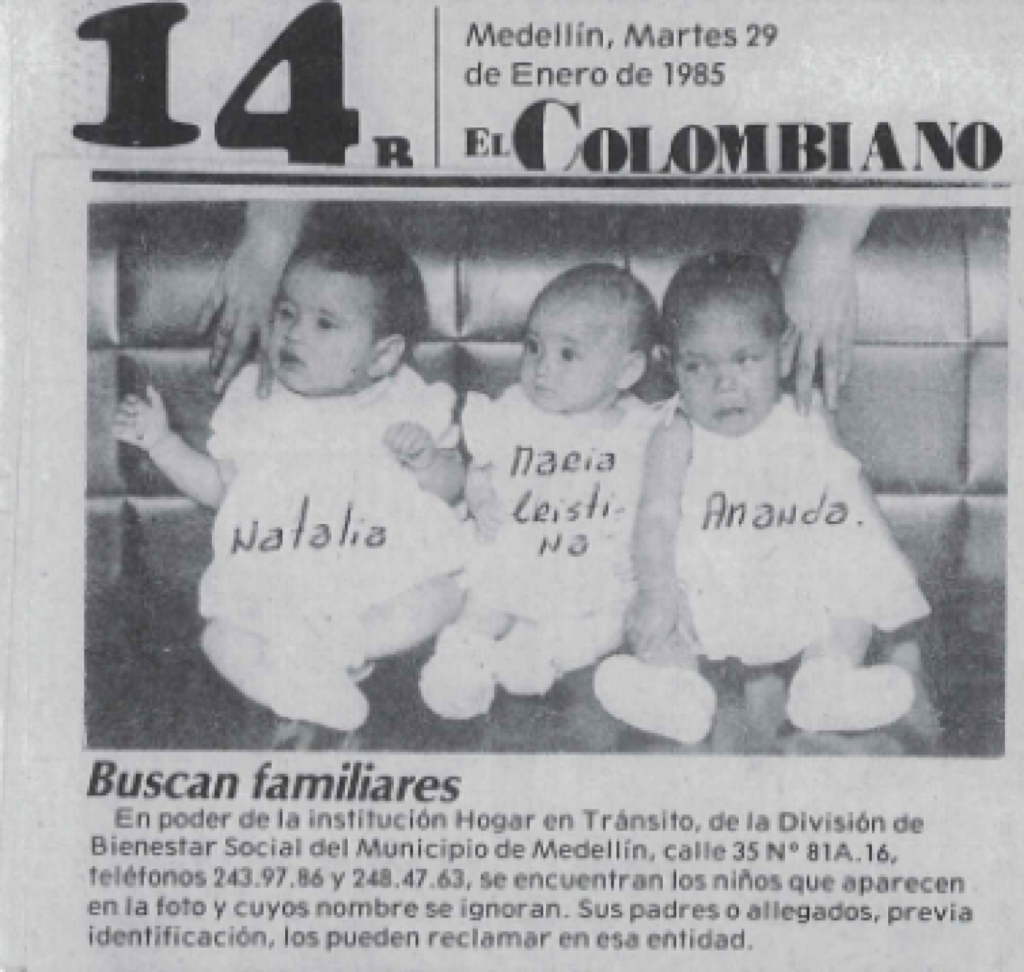 I am given the name Amanda Restrepo at some point throughout all of this. I am placed with a foster family for some time. I am put into the program for adoption, through ICBF and in February of 1985 doctors examine me and estimate my age. I am given the birth date July 1st, 1984.
Here, there is a gap in the paperwork. The next available document is dated 7 months later, in October 1985. It is the letter from ICBF, to my prospective adoptive parents letting them know there is a girl available for them to adopt in Medellin, if they wish to do so. This letter mentions that when I came to el Hogar en Transito I was malnourished and underdeveloped. It also says that after having lived in a home, I have made progress, I have no health issues and I have caught up developmentally. The very last sentence of this letter is, and I quote, "La niña es de rasa negra" (The girl's race is black).
December 16th, 1985 I am handed over to my adoptive parents at the ICBF office in Medellin.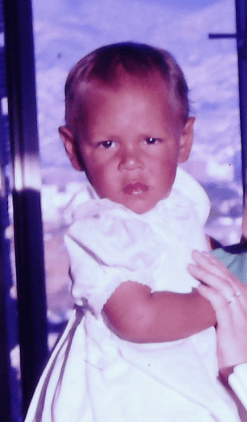 In April of 1988, three years later, a civil registry entry is made for me in Colombia, as Amanda Svensson. In it, I have the last name of my adoptive parents, and they are entered as my mother and father, legally erasing any and all connection to my first family.
It would take 32 years until I requested my adoption documents from my mother, read them for the first time and found out about all this information. It would take another six months until I was ready to accept that this story might be as much a fabrication as it could be the truth.
This is the story that I have been given, and now I am determined to find out if it is true or not. The fact remains that I was separated from my first mother one way or another, for one reason or another. However, it is not the thought of having been abandoned that bothers me most, but the fact that there is no way for me to know how, where, by whom, under what circumstances and so on and so forth, any of this happened.
This is where the healing work begins, and my next post will be about my emotional response to all this information. We are in for a ride and I thank you for being with me on this journey. I also invite you to share your adoption story as well.
Own you story, share you story, write your story…
All my love to all of you!
– Amanda Unknown – Restrepo – Svensson – Medina
PS. We are all in this together!