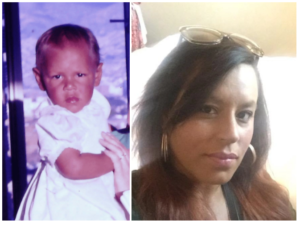 I am going to share something with you here that is a little bit different and a little bit outside of my adoptee story, but that I think, and hope, can still be of support and comfort to some of my fellow adoptees.
Music has always been my refuge…
Whatever I have been going through in life, I have found my escape in music. In Rock, in pop, in Country, in RnB, in classical, in hip-hop, in musicals, in any kind of genre and style.
To me, it is about the feeling a song can evoke in me. Being able to find balance between something outside of me and what is going on inside of me is what determines what music I chose listen to at any given moment.
It is only when I cannot figure out what song I feel like listening to that I feel utterly lost.
In June of 2019, I found myself in a place in life that was…I do not even really know what words to use to describe it.
I was living on autopilot. I was looking around myself and asked myself over and over
"How did this happen?
How did I end up here?"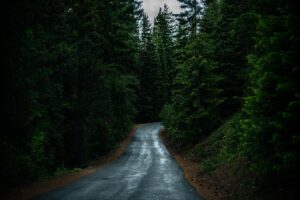 Some back story…
I knew from a young age I was going to leave Sweden, the country I grew up in.
When I did, I knew I was not going to come back. It was the most liberating feeling I have ever experienced, to leave Sweden and move to the U.S. in January 2005.
I moved to New York when I was 20 years old, for studies and for love. I felt a sense of home in New York, I had never felt before.
I was attending college, making friends, moving in with my boy-friend, going through all kinds of ups and downs, personally, academically, professionally, in my relationship and friendships. I all made for an eventful life where I was learning and growing.
Fast forward 10 years. In 2016, my husband and I took a big leap and moved across the country to California. I felt on top of the world. We felt we had truly found our happy place and life was really looking solid, good, and wonderful. Until things came crashing down.
Being in the thick of it, coming out of the adoption fog, I was realizing things about myself, about my past and about my story that caused me to grieve deep in my soul. A darkness I had never known was making its way to the surface and I was powerless to stop it.
And things were falling apart around me as well. My husband and I stood face to face with a crashing business, an increasing debt, an impending move away from our happy place, and a sense of helplessness that was like a wave coming at us. All we could do was let it wash over us and drag us along.
So, here I was in June 2019, back in Sweden
The course of events that had taken us there were filled with stress, anxiety, depression, and hardships. I felt broken as an adoptee, and hopeless as a person. The US seemed so far away. California, our happy place, seemed a world away. I could not see at the time how we would ever be able to return.
It felt like life had played a very cruel trick on me.
I was alternating between feeling heartbroken and not feeling anything at all.
I was starting to feel like there was no way back to where we felt at home and where we felt we belonged.
The thought of being stuck in Sweden, of raising my daughters in a country I could not love and would not ever feel at home in, was a nightmare I fought to not succumb to every single day.
I did not see much of a way out.
Yet, there was a small voice that kept telling me it would happen somehow. That I had to keep pushing and the Universe would find a way.
Going back to music
One of the ways I would disconnect and get some peace of mind during this stressful time was to watch reaction videos on Youtube.
One day I stumbled on a video of a female vocal coach reacting to a singer I had never heard about. I was not overly intrigued at first. I heard the low, airy notes. He had a nice voice. And then the high notes were obviously something spectacular, a male singer with such high notes. He had a good voice but seemed much too serious a person for my liking, unreachable in a way.
I do not know why I decided to look up who he was and see if there was more of his music and singing out there.
But I did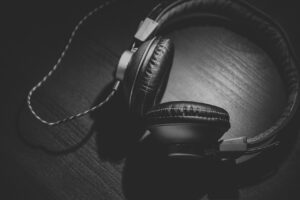 And I found the one song that would come to mean more to me than any other song had ever done before, and will probably ever do.
I listened to it repeatedly. I watched the performance. It was becoming clear to me; this was something different. This song, this singer.
My world was chaotic around me, and for the most part inside me as well, but when I listened to this singer sing this song, I felt a comfort all the way into my very soul.
I watched every single performance I could find. I read about who the singer was. I found out more and more and became more and more amazed. At the talent, at the commitment, at the humble person, at the authentic nature and of everything this singer was representing and putting into the art of his craft. And into the world.
And I heard of how his singing had changed the lives of others.
The Universe was listening
Two months later, I found out he would be in the US, giving a concert later the same year. There was no way I would ever be able to attend that.
I was still listening to the same song every single day, several times. I dreamt of what it would be like to hear this song live. I made it an item on my bucket list to be able to one day attend a live concert. I put it out into the Universe. I could see myself in the audience. I could dream up what it would be like.
But, I was still thousands of miles away, with no real way of making that happen.
 I was in Sweden. We had just left New York a few months earlier, I had to return for a short stay in September, the concert was going to be in December. There was no way I could travel back and forth like that in such short time.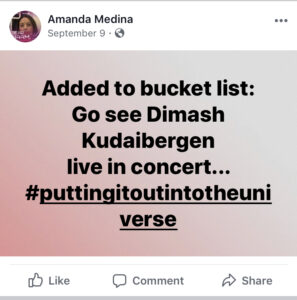 In September, I got on a plane to New York. I had to travel back to stay for a few days to maintain my green card-status in the U.S. I was going to stay for four days and then return to Sweden again.
In September, my calling for a sign from the Universe was answered. Instead of returning to Sweden, events were playing out that made it so that my family and I would return to the US.
My four-day stay turned into our return home.
And our return home turned into my ticket to the concert.
The first solo concert in the U.S. by a Kazakh singer named Dimash Kudaibergen.
The song I had dreamed of hearing live was S.O.S d un terrien en détresse.
When I sat in that audience, December 10th, 2019, and heard Dimash sing S.O.S  –
LIVE in NYC…
I cannot explain in words what that was like. That song had carried me through some of my darkest days. It had been my refuge, my safe place, my comfort, my hope, and my peace when I felt the most hopeless and lost.
So much more than 'just' a song
To be able to tie together and connect this song, this live performance in NYC, and this singer, with my journey back to home, with my journey of coming out of despair, with my journey of finding strength and having the Universe listen and show me the signs I needed, at a time I needed them the most, is something I cherish and value beyond what words can describe.
Sitting in the audience, in NYC, hearing Dimash singing SOS live has become a moment that represents to me what can happen if we do not give up. If we trust that things will be okay, if we hang on to hope, even when hope seems nowhere to be found.
And I post this today, December 10th, 2020, sitting in my home in California. 
One year after that concert.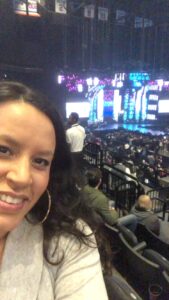 Life is still very much up and down. Some days are great, some days I struggle, with different things. And especially with what this year has brought in terms of uncertainty, isolation, and a new normal. But in all of this, I have this one moment to remind me…
Dreams do come true; the Universe is listening and even when you don't feel like it…
…there is hope!
And one more thing
I have listened to this song more times than I can count, but only the other day did I pay full attention to the lyrics.
As an adoptee, those words go all the way into my soul.
Especially the line
"At the lottery of the Universe, I did not get the right number"
I share with you today, the song I am talking about here, in a link to a performance on YouTube. Put subtitles on and see and listen for yourself.
Dimash Kudaibergen – S.O.S d un terrien en détresse
I hope this can be of similar comfort to someone else, as it has, and continues to be for me…
I thank you from the bottom of my heart, for spending this time with me, showing up for yourself.
All my love to all of you.
– Amanda Medina
To all my fellow adoptees,
PS. We are all in this together.